The Wild Rose Antique Collectors Society is very proud to have contributed over $250,000.00 to heritage projects, museums and charities throughout the province of Alberta.
If you are interested in supporting our society please contact us at president@wildroseantiquecollectors.ca
Here is a partial list of the projects that we have funded:
---
Fort Edmonton Park, Edmonton – 2002
1920 Harley Davidson motorcycle was purchased at an estate museum sale in North Dakota and restored by Eldon Brown and his father, Carmen. Over 800 hours of work went into the bike, and Mr. Brown re-manufactured replacement parts that he was unable to find. The sidecar was shipped from a source in Germany. Motorcycle sold to Fort Edmonton Historical Foundation by Eldon Brown, 2001/10/26 at a cost of $37,450 (with GST)
1920 Harley-Davidson 20F with sidecar. 61 cubic inch (1000 c.c.), 11 hp V-twin engine. Chain-drive. 20″ wheelbase.
---
Fort Edmonton Park, Edmonton – 1989
Partial restoration of Fort Edmonton Park Maintenance Truck #2: 1925 Chevrolet Capitol, one-ton truck [35 hp.,  4-cylinder, valve-in-head engine with a three-speed transmission and a 120" wheelbase] License Plate: 5-577
Truck originally belonged to Mr. Halliday from Mulhurst Beach. At the request of General Motors Canada, Mr. Halliday drove the truck to Expo '67 in Montreal for display purposes. The journey to Montreal took 9.5 days at a top speed of 35 mph. Cab box rebuilt and all wood replaced.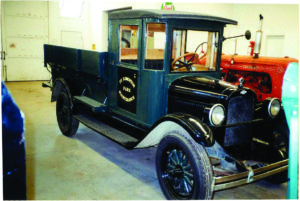 ---
Musée Héritage Museum, St. Albert
Wooden display cases and panels for the exhibit, "Snapshooter: Popular Photography in Alberta; 1890 – 1950." The 50+ cameras (from the Museum's collection of over 400) and other photographic artifacts toured nation-wide in a 540 square foot display designed by the Museum to be arranged as space permitted. The cost to the receiving museum was to ship the six, 150-lb. crates to the next museum.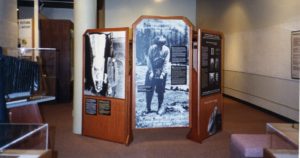 ---
Ukrainian Heritage Village, Lamont County                   
Wild Rose Antique Collectors Society's donation enabled the Ukrainian Cultural Heritage Village to acquire and paint a 1929 Ford Model A, Tudor sedan for display.
This Model A represents the vehicle owned by John Demchuk, the blacksmith whose life is interpreted at the Ukrainian Village.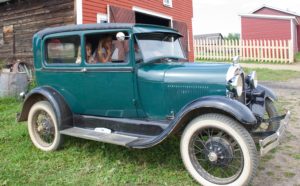 ---
Edmonton Radial Railway Society, Edmonton – 2004
We were extremely happy to be part of the the Streetcar project.  Costs to transport the streetcar, "Melbourne 930" from Australia to Edmonton.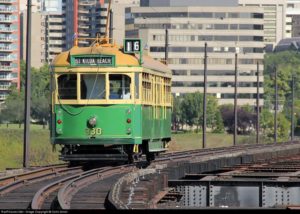 ---
Fort Edmonton Park – 2003 / 2006

Another project that children young and old of Edmonton get to enjoy.  We were very pleased to help with this project.
Original carousels are virtually unobtainable in any condition and when Fort Edmonton began plans for a re-creation, WRAC broke with tradition and funded the carving of a replica carousel horse. Our early participation ensured we had significant input in the design, incorporating the symbol of our club. "Wild Rose" is on the outer ring and was carved by Ed Sczesny. (more)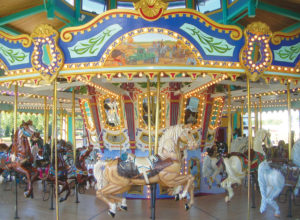 Click here for a full list!